The Promoters of SPL Group are in the field of manufacturers of various Chemicals since 1978. Sh. Shiv Shankar Khadgawat is the Promoter of the company. M/S Shivam Additives Pvt. Ltd. was established as a private limited company having registered office at 107, Bhagat Singh Chowk, Hanumangarh Jn. & Factory at different locations in Hanumangarh Jn. (Raj.) for manufacturing of Rubber Blowing & PVC Blowing Agents. In the financial year 2014-15 the company has enhanced the production capacity of the unit from 3000 MT to 3500 MT per annum by expansion in Plant & Machinery and Building. Since its inceptions the company is leading manufacturer of Rubber Blowing & PVC Blowing Agents in India.
Achievements
Achievement of National Award 2005: Hanumangarh is a backward district of Rajasthan. There is no presence of industries in Hanumangarh District except few of Agro based. There are no infrastructure/facilities for availability or marketing of chemicals items or products. Despite of too much shortfall of the facilities in this District promoters of M/S SHIVAM ADHESIVE PVT. LTD. established 4 chemical industries, which are few in country. They have not only continued the production at the maximum level but they exporting their products to more than 21 countries. With our efforts, good wishes of well wishers & quality product we have been awarded with National Award 2005 for Small Scale Entrepreneurs by the Govt. of India, Ministry of Industries at New Delhi. We were recognised as Star Export House by Govenment of India and Directorate General of Foreign Trade | Ministry of Commerce and Industry. We have been also awarded Udyog Ratan Award in year 2017-18 by Rajasthan State Government.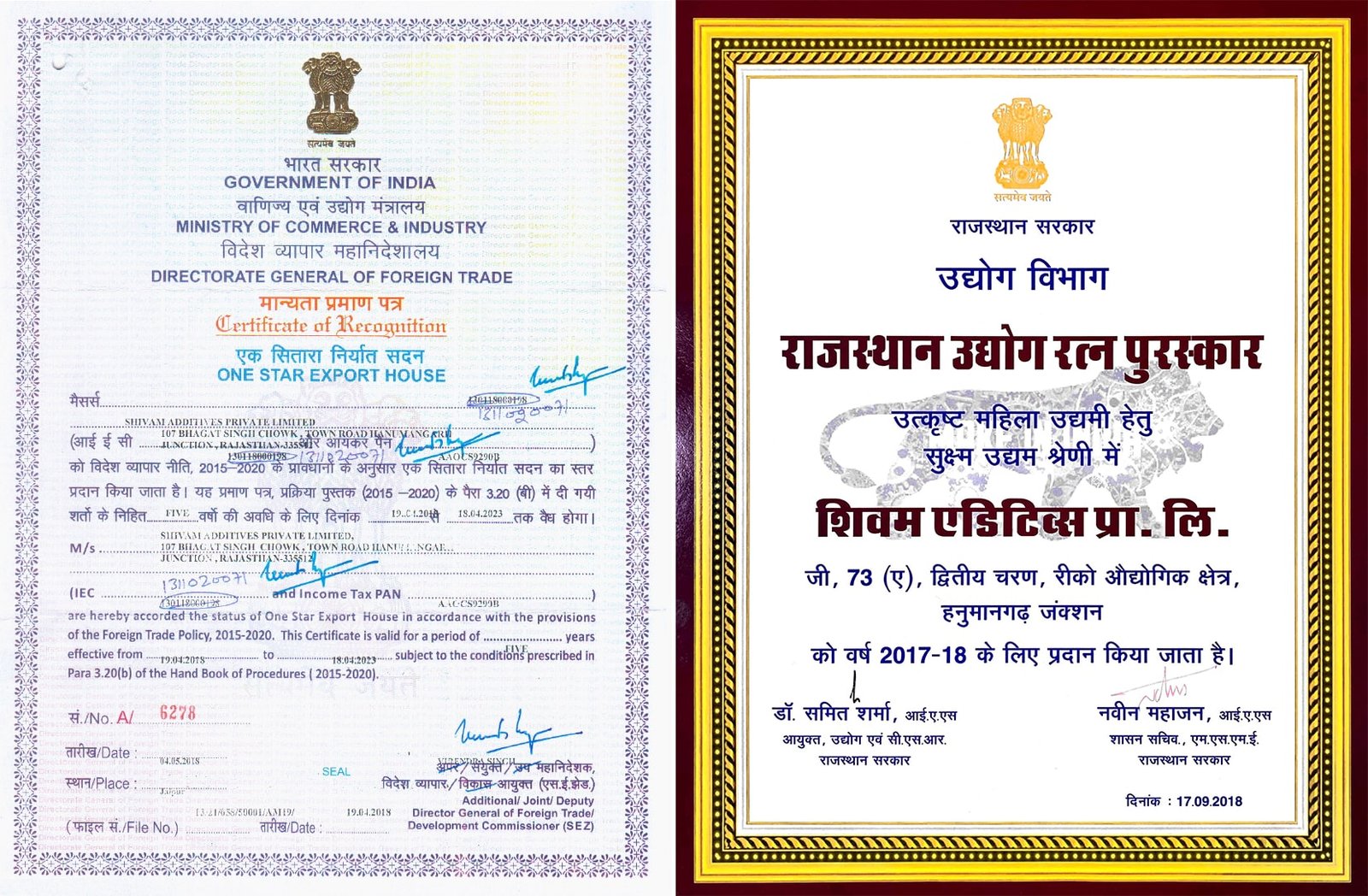 Network
We have flourished with our well established network that is spread not only in India but also in the countries like Bangladesh, Kenya, Russia, Guatemala, Tanzania, Ethiopia, UAE, USA, Pakistan, Thailand and Nepal. Our formidable network has assisted us in timely and efficient delivery of the products at customer's end. Subsequently, we are identified as one of the reliable and leading Exporters of Dinitroso Pentamethylene Tetramine.
Objectives
The organisation is committed to continually improve the effectiveness of the consistent quality, timely delivery and a high level of after sales service. The quality system is very well established and 'zero defect' is the final objective.

To continuously invest in modernisation, product development and research to improve productivity & efficiency. To build brand equity and be recognised in the global market.
| | |
| --- | --- |
| Year of Establishment | 1995 |
| Primary Business Type | Manufacturer, Exporter & Supplier |
| Products/ Services we Offer | PVC Blowing Agent & Rubber Blowing Agent. |
| Number of Employees | 60 |