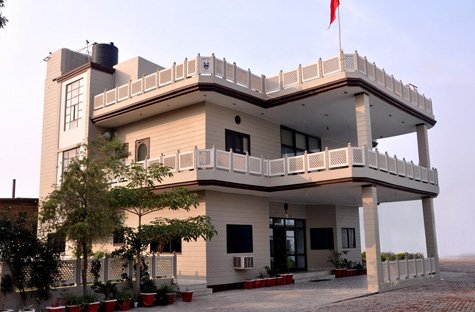 The Promoters of M/S Shivam Adhesive Pvt. Ltd. are in the field of manufacture of various Chemicals since 1978. Sh. Shiv Shankar Khadgawat is the CEO of the company.

M/S Shivam Adhesive Pvt. Ltd. was established in May 1995 as a private limited company having registered office at 106, Bhagat Singh Chowk, Hanumangarh Jn. & Factory at C-36, Industrial Area, Hanumangarh Jn. (Raj.) for manufacturing of Rubber Blowing & PVC Blowing Agents.

In the financial year 2001-02 the company has enhanced the production capacity of the unit from 1500 MT to 2000 MT per annum by expansion in Plant & Machinery and Building. Since its inceptions the company is leading manufacturer of Rubber Blowing & PVC Blowing Agents in India.

Achievement of National Award 2005: Hanumangarh is a backward district of Rajasthan. In the map of Industries of Rajasthan, there is no presence of industries in Hanumangarh District except few of Agro based. Total Finance to the industries of Hanumangarh District is Rs. 38.00 Crore. There are no infrastructure/facilities for availability or marketing of chemicals items or products. Despite of too much shortfall of the facilities in this District promoters of M/S SHIVAM ADHESIVE PVT. LTD. established 5 chemical industries, which are few in country and unique in it in whole Rajasthan.

They have not only continued the production at the maximum level but they exporting their products to more than 12 countries. With our efforts, good wishes of well wishers & quality product we have been awarded with National Award 2005 for Small Scale Entrepreneurs by the Govt. of India, Ministry of Industries at New Delhi.
The company manufacture the following major products:-
Rubber Blowing Agent, Dinitroso Pentamethylene Tetramine (DNPT)
We offer and specialized in the production and distribution of highly acclaimed Rubber Blowing Agent that is also known as Dinitroso Pentamethylene Tetramine. Blowing Agent for rubber made available by us has numerous applications in rubber and plastic industry. It is widely used in rubber processing to produce sponges and expanded rubber. Micro Foam Rubber Blowing Agent (DNPT) is used in footwear industry, hawai chappals, rubber slipper, light weight slipper, shoes, etc. Our Micro Foam Rubber Blowing Agent (DNPT) is also used in the production of cellular rubber products, cellular ceramics, extrusions of profiles, sheets, pipes & wire coatings and seals for crown corks and door sealing strips. We are one of the prime rubber blowing agent suppliers to the biggest Hawai Chappal manufacture industries in india.
PVC Blowing Agent, Azodicarbonamide+Modifier (ADC)
Shivam Adhesive Pvt. Ltd in India. is also engaged in offering, manufacture and export of superior quality PVC Blowing Agent that is also reckoned as Azodicarbonamide (ADC) in the industry. Our rigid PVC Blowing agent is widely used in rubber, PVC, footwear and plastic industries. It is commonly used for the expansion of PVC, natural and synthetic rubbers. We make them available in different ranges such as Micro Foam ADC-L5 and Micro Foam ADC-F2. In addition to this, we are counted as one of the major Azodicarbonamide+Modifier (ADC-L) manufacturers and exporters.